We're getting ready to blast off!
Westkirk Summer WOW 2021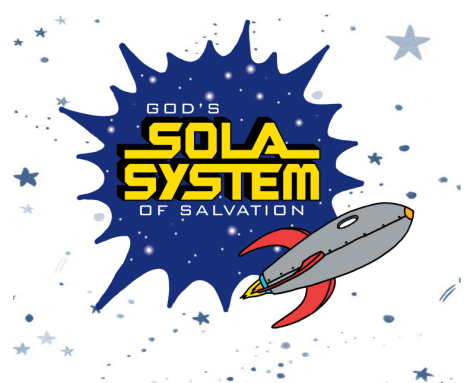 5 Wednesday nights!
June 30, July 7, July 14, July 21, and July 28
5:15-8pm
Welcome! We have an adventure-filled trip through the galaxy in store for you! Come along with us as we meet a wild and wooly group of characters, and travel through a clear presentation of the gospel and the 5 Solas, or faith statements, that will challenge us all.
Memory Verse
Ephesians 2:8-10 (ESV)
8 For by grace you have been saved through faith. And this is not your own doing; it is the gift of God, 9 not a result of works, so that no one may boast. 10 For we are his workmanship, created in Christ Jesus for good works, which God prepared beforehand, that we should walk in them.
Register!
Register online HERE!
Kids age 3-11 (entering 5th grade) will be placed in classes by age. Kids age 2 and under are welcome in the Nursery!
Adult Class
All adults are warmly invited to the Adult Class in the Great Hall. This year, Pastor Nathan Hiatt will be leading the Adult Class through a study of the 5 Solas of the Reformation!
Schedule
Dinner at 5:15
Worship at 6:00
Classes for kids AND adults 6:30-7:45
Closing Worship at 7:45
Dinner Menu
June 30 - Space Dogs and Asteroid Tots
July 7 - Planetary Burgers and Rocket Fries
July 14 - Alien Chicken Strips and Rocket Fries
July 21 - Out-of-this-World Pizza
July 28 - Mission Commander's Choice
Dinner is also free, but you'll have an opportunity to donate toward the food expense if you'd like!
Offering
Our offering this year will support Josh South and his work in Juvenile Justice Ministry with Greater Iowa Youth for Christ!
https://greateriowa.yfc.net/ministries/juvenile_justice_ministry/jjm_des_moines/
It's Westkirk tradition to bring more valuable currency each night of VBS, so on the dates below, bring....
June 30 – pennies
July 7 – nickels
July 14 – dimes
July 21 – quarters
July 28 – dollars!
Our goal is $500!!!!